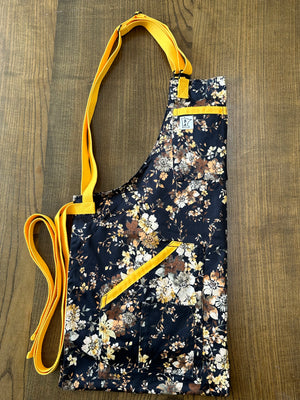 Mission Maui
Sale price Price $80.00 Regular price Unit price / per
This project is near and dear to our hearts as a fundraising effort for the community in Maui. We are making this project a high priority and have worked in collaboration with our friend Chef Chris Kulis to not only design this spectacular one of a kind apron, but also to use his guidance as to where funds will be sent. We will be sure that funds raised will go directly to Maui to help get raw materials to chefs as they are cooking for those in need and when those needs are met, any and all residual funds will go to the Maui food bank.  Everything above costs will go directly to the cause and we thank you in advance!
The details on this unique apron design is a denim base fabric, the main upper breast pocket will be a one if a kind hand cut pockets from our limited supply Italian denim. The lower pockets will be trimmed in this matching fabric and the trim on the upper breast pocket will be salmon. The strapping is a beautiful tropical teal with buff hardware tabs and chrome hardware. 


Thus apron is being sold as a preorder with an expected 4-6 week delivery period. We ask for your patience and your support as we work to support this beautiful community. 
*the denim base of this apron may arrive to you as a slightly different shade of blue than pictured, due to the demand and the production timing.