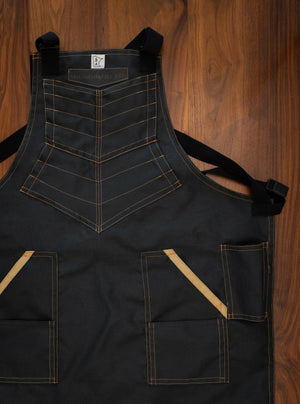 BAMF
Sale price Price $180.00 Regular price Unit price / per
The BAMF is a next-level protective apron produced in collaboration between Craftmade Aprons & Maumasi Fire Arts. With every every inch of its design carefully crafted to cater to the tough needs of the knife maker, there is no other apron that serves and protects like the BAMF. 
The full body of this apron is made from Kevlar®. On the upper chest portion there's 2 protective layers of Kevlar® in addition to the upper armor-like pockets.

The workability of this fabric is incredible. It's very lightweight and performs beautifully! Due to the fully extended and perfectly aligned molecular chains within Kevlar® fiber, Kevlar® provides a strong protective barrier against slashes, cuts and punctures. Kevlar® is inherently flame resistant—protecting against thermal hazards up to 800 degrees Fahrenheit. As an added bonus, the apron is water resistant and protects you from chemicals.

There are 14 tool pockets on the upper chest portion of this apron, and the gold heavyweight thread really shows off this incredible line up! To keep your phone safe and protected,
we created a cellphone pocket on the flip side of the chest section. Below, you'll find 2 large side angle pockets trimmed with gold kevlar, with a set of secondary outer pockets.


This apron does not have standard apron ties; we've provided a magnetic clip at the waist, to keep potentially-hazardous fabric ties out of the equation. We've also added 2 hammer loops on either side of this apron to provide a right handed or left handed option.
Shoulder straps are cross back and 1.5" in width in order to provide maximum distribution of weight. The shoulder straps are adjustable with a black anodized tri-glide slide. 

This apron comes in one size. We find that this apron size is fairly universal. It measures 36.5" in length and 31.5" in width.