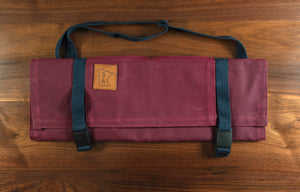 Main Squeeze - Burgundy - Knife Roll
Sale price Price $135.00 Regular price Unit price / per
We are thrilled to be releasing our knife rolls to our culinary community, equipped with all of the best features with input from local knife makers and industry professionals.
Here we have our burgundy-colored knife roll. This knife roll is complemented by navy colored straps. We cannot explain how beautiful this color is. The burgundy is very rich and warm, and the navy brings out the vibrancy even more. This knife roll is perfect if you are looking to add just a little bit of color into your culinary collection.
These knife rolls have an outer shell of tex-wax canvas to ensure lasting quality. The roll is made from 100% cotton outside and a  Kevlar blend interior for durability and protection. This fabric blend is water repellant and flame resistant and is very tough to cut. There is a large protective cover for the  full interior of the roll, in addition to an individual Kevlar flap and slot for each knife. Our knife rolls feature 2 magnetic slide closures for a secure hold, to keep your knives safe. With 8 pockets, the pockets can hold an 18.5" knife measured from blade to handle (whole knife). 
Our goal was to create a stunning design that is durable and reliable while remaining affordable so that more people can enjoy these products.
Disclaimer:
Our knife rolls are made with the best materials, handcrafted to the utmost quality, and made locally in Minnesota. However, with any knife product, we can not guarantee that the fabric will not cut. Knives are extremely sharp, and while our testing has determined no issues, we cannot promise that the Kevlar/Nomex blend will not be pierced by the sharp knives you place inside.